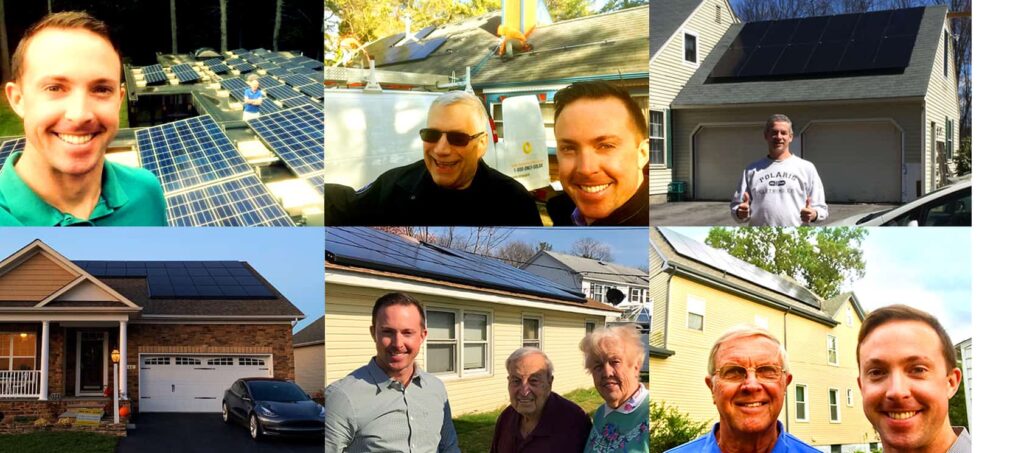 Will's passion for saving people money on their electric bills comes from personal experience with his family's small business. For more than 10 years Will has been helping thousands of satisfied customers make the switch to solar.
Will's Customers Love Him!
"I highly recommend Solar Energy World to all! Will McColley and the whole team were fantastic." – Steve
---
"Solar Energy World was a dream to work with! From start to finish they were respectful, on-time, and literally handled everything throughout the entire process." – Jay
---
"I loved how easy it was going solar. They took care of the permitting and everything!" – Joan & Frank
Fill out the form to schedule your appointment with Will
Two Ways You Can Go Solar With Solar Energy World:
RateGuardian™ PPA – 20-30% Savings, No Money Down: Our Zero-Down Solar Power Purchase Agreement (PPA), makes it possible for you to pay $0 up front costs for solar panels and installation. With approved credit, you can have a solar power system installed and start paying at least 20% less than your current monthly electric bill. We sometimes call our PPA the "No-Brainer" option because you pay absolutely nothing to start saving right away.
Solar System Purchase – Up to 100% Savings, Plus Earn Profits: If you decide to would like to own your system, you start saving on energy costs as soon as the solar panel system is operational. But you may have an upfront investment. We'll review the numbers based on the size of your home and system, but on average, solar homes generate a 125% return on investment within 5-7 years. By year 20, homeowners can expect to achieve a 500% return on investment.
*PPAs are not available in Virginia at this time. If you have a home or business in Virginia, we have excellent purchasing options available including a $0 down with financing offer.
About Solar Energy World
Solar Energy World was founded in 2009 and serves homeowners and businesses in Maryland, Pennsylvania, Washington DC, New Jersey & Virginia. We're the fastest-growing, solar company in our region because our customers love us and refer new customers to us every day. Our numerous service awards and outstanding reviews show we truly care about our clients, their families and the community we all live in.
Our mission is to help more people switch to clean energy because we know living sustainably isn't just good for our planet, it helps people save thousands of dollars on energy costs, giving them more money to spend on the things in life that really matter. At Solar Energy World, we don't just sell solar systems. We believe tomorrow matters.
Locally-Based Solar System Installation Teams in Maryland and New Jersey
Solar Energy World provides property owners a complete turnkey solution to solar power, handling every step of the solar panel planning and installation process to make going solar easy. In addition to ensuring our customers receive every tax credit, grant and solar renewable energy credit they are entitled to, all of our solar installers work directly for Solar Energy World and are fully accountable to us. Our solar installers and crew leaders have had years of prior experience working for our parent companies in the related fields of roofing, electrical and home improvements and all of them receive solar panel installation training from our solar panel brands. In addition, during the solar panel installation process our crews are supervised by a Solar Energy World NABCEP-certified solar designer/installer and a Solar Energy World licensed master electrician. We never hire subcontractors, so your solar panel system installation is guaranteed to be of the highest quality.