Solar Energy World is a Regional Leader in Solar Panel System Design and Installation.
Founded in 2009, Solar Energy World is a top-rated, award-winning regional solar panel installation company for residential and commercial property owners serving Maryland, Virginia, Delaware, Pennsylvania, New Jersey, Florida and Washington DC. Due to our company's excellent reputation our installations continue to grow every year making us the fastest growing, independently owned solar installation company in the region.
A History of Excellence
We have installed thousands of solar panel systems since our founding in 2009. Solar Power World, the industry's leading source for solar technology, development and installation news, released their annual Top Solar Installer List in July 2023. We are proud to say that we made the list again now ranking 10 for total residential kW installed in 2022 and held on to the number one spot for residential installations in Maryland for the fifth year in a row.  We remain the fastest-growing, independently-owned Solar Installation company in the region.
Our Triple Platinum 30 Year Warranty:
Choosing to go solar is one of the most important decisions you can make for your wallet, your home, and the planet. Solar Energy World is ready to help guide you through the entire process with award winning service, top-of-line products, professional installation, and Solar Energy World certified technicians. We offer our TRIPLE PLATINUM 30 YEAR WARRANTY* to every customer because we know Solar Energy World provides the best service and solar installation on the East Coast. With over 170,000 kW installed and more than 14 years in business, Solar Energy World is prepared to help you achieve energy independence TODAY!
It is a 30-year manufacturer's warranty on all solar panels and inverters. Read more about our Triple 30 year Platinum  Warranty HERE.
We Believe Tomorrow Matters:
Our company's mission is to give more people the power to reduce their dependence on fossil fuels to foster financial and environmental security for their children and grandchildren because we believe tomorrow matters. In keeping with that mission, our installations also benefit children worldwide.

Solar Energy World is an official GivePower* partner. Through this partnership, a portion of the profits from every Solar Energy World installation goes to building GivePower's Solar-powered Water Purification Farms in developing regions of the world where every 90 seconds a child dies due to waterborne diseases. GivePower's Water Purification Farms ensure children and their parents who live in that community never have to drink toxic water again.
---
Here are some more ways we are different: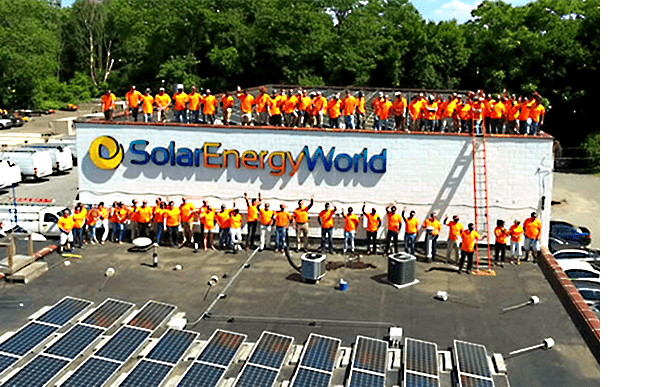 Real, Positive Reviews. Is there a solar installation company that will let you talk to ANY customer you like? We will. In fact when you have a free solar evaluation with us, we let you choose anyone at random from our customer list of thousands to call for an unbiased, unrehearsed reference.
We practice what we preach. Our headquarters runs on solar power so we know it works. The solar panel system was designed and installed by our employees. Request a tour and see how it works for yourself.
Our systems are custom designed to fit your unique energy and financial needs. We do not sell build-it-yourself solar panel systems or try to force a one-size-fits-all solution on our customers.
We have incentive specialists to assist you with local tax credits & grants. You'll get all the benefits your entitled to hassle-free.
We never hire subcontractors. Every person who works on your system is an employee of Solar Energy World, fully accountable to us, ensuring you receive superior service.
We only install high-efficiency, superior solar PV products – We only install the best solar panel brands and solar backup batteries on the market from manufacturers all over the world, including America.
88 years of local service – We're not going anywhere! We have provided roofing, electrical design and home improvement work for many years.
Great financing options – Your Solar energy home is going to earn you money – you decide how to get it started. We offer more Options than any of our competitors, including a PPA (Power Purchase Agreement) that lets you get solar panels and installation for $0 Down and a purchase option where you can own your system and earn profits.
We truly believe tomorrow matters and are here for our customers before, during and after installation. We love our customers and we know they love us because they refer new customers to us every day.
Locally-Based Solar System Installation Teams in Maryland, New Jersey, Virginia and Florida
We provide property owners a complete solution to solar power, because we handle every step of the solar panel planning and installation process to make going solar easy. We also ensure our customers receive every tax credit, grant and solar renewable energy credit they are entitled to.
All of our solar installers work directly for Solar Energy World, therefore they are fully accountable to us. In addition, our solar installers have years of prior experience working for our parent companies in related fields. For instance, all of them receive solar panel installation training from our solar panel brand partners. In addition, during the solar panel installation process an in-house NABCEP-certified solar designer/installer and a Solar Energy World licensed master electrician supervise our crews. Above all, we never hire subcontractors, so your solar panel system installation is guaranteed to be of the highest quality.
Committed to Clean Energy
According to several recent studies, annual electricity demand is projected to increase to 5,000 billion kWh by 2030. Coal fired power plants generate 37% of US electricity, and are the single biggest air polluter in the United States. In addition, Petroleum products account for approximately 31% of our energy needs and are the second largest contributor of pollutants on earth. So, our mission is to show property owners that they don't have to rely on dirty fossil fuels alone for their electricity.
Solar energy for homes and businesses provides a clean, renewable and sustainable source of energy.
Using solar energy helps reduce human dependence on fossil fuels, greenhouse gas emissions and also grid constraints. Therefore, solar energy along with other clean and renewable sources, can help shift society to a new energy future. Solar Energy World believes in playing a key role in this transition process because fossil fuels pump tons of poison into our air daily and they are also finite. Above all, the sun is the most powerful, reliable energy source we have that will provide energy to the earth for billions of years.
Solar Energy World is committed to protecting the environment, similarly we try to promote clean and renewable energy. Above all, our focus is on sustainable energy solutions for homeowners and property owners. That includes products that are guaranteed to operate and remain safe over their entire life cycle. Likewise, we strive to maintain the highest standards in responsible product choices and solar panel installation services. Hence, our pledge to remain a responsible corporate citizen as we help Maryland, Washington DC, Pennsylvania, New Jersey, Virginia, and Florida and the world shift to a cleaner energy future.
We practice what we preach! – We've made energy efficient upgrades to our headquarters in Elkridge, Maryland, and, of course, it is powered by the sun. Our solar power system was designed and installed by our employees and is approximately 48kW in size, providing 52,500 kWh. This is equivalent to greenhouse gas emissions avoided by recycling 12 tons waste instead of sending it to the landfill!
Visit our Solar Panel Showroom in person and see for yourself!
To find out if you qualify for solar, please fill out the form below.
* The GivePower Foundation, located at 500 2nd Street, 1st Floor, San Francisco, CA 94107, is a 501(c)(3) charity. GivePower's annual report and more information are available at givepower.org. Registration with any regulatory agency does not imply endorsement. Donation is tax deductible by Solar Energy World, not the customer.