The Homeowner's Guide to Solar In New Jersey is a helpful resource to walk you through the essential steps needed to find the perfect solar installer. Learn how to select the best NJ solar installer and educate yourself about the benefits of solar energy, the installation process, potential costs, possible local and federal subsidies, and buying alternatives.
How to Choose a New Jersey Solar Installer
The best solar installer in New Jersey is Solar Energy World because they believe tomorrow matters. Solar Energy World is committed to providing its customers with financial independence and a better future for their children and the environment. They have over 88 years experience in local service – providing roofing, electrical design, and home improvement work. Plus, when you go solar, they take care of all the paperwork for you – so you receive all the tax incentives, rebates and grants you are entitled to – hassle-free.
Use the menu below to get quick access to the information you're looking for:
1. Search for a Trusted, Local NJ Solar Panel Company
When looking for a New Jersey solar installation company, the first thing to look for is experience. Solar Energy World has been installing residential and commercial solar panels for over 88 years. We serve most areas throughout the entire state of New Jersey.
Solar Energy World stands apart from all other NJ solar panel installers because:
We're not a discount retail chain. At Solar Energy World, we guarantee personalized customer service for everyone.
We practice what we preach. We run our facility on our own system designed and installed by our own employees.
Our customers love us. We'll let you contact any customer at random for an unbiased, unprepared reference.
We have incentive specialists to help with local tax credits & grants, to get you all the benefits you're entitled to.
We install the best panels. Only the highest quality & most efficient solar panels for guaranteed performance.
We never send out subcontractors. Our installers are our employees, directly accountable to us.
We provide 24/7 monitoring and diagnostics. We'll install your system and ensure it will always operate optimally.
2. Understand How the New Jersey Solar Panel Installation Process Works
At Solar Energy World, we follow a six-step solar panel installation process to ensure a smooth and successful engagement. We start with a simple cost-benefit analysis and guide you through every part of the process — continuing to provide monitoring and support even after your solar panels are installed. But, don't take our word for how simple the process is. Hear from other local New Jerseyers on their experience with Solar Energy World. 
3. How Much Do New Jersey Solar Panels Cost?
There are a variety of factors that will impact the total cost of your New Jersey solar panel installation, but on average, NJ homeowners spend between $12,500 and $17,000. NJ solar rebates, tax credits, and other incentives can be used to help offset the cost by thousands. Typically, a NJ solar panel system pays for itself between 6 to 10 years. 
---
See more New Jersey customer reviews here
---
4. Take Advantage Of New Jersey Solar Tax Credits
New Jersey offers a set of tax credits for solar. To get a full picture of how much a solar panel installation might cost you in New Jersey — with these tax savings and other incentives — visit our New Jersey purchase guide here.
NEW JERSEY TAX CREDITS
New Jersey Solar Sales Tax Exemption
The New Jersey Solar Sales Tax Exemption allows a full exemption on all major solar energy equipment, offsetting the cost of solar equipment by about 7%.
Local Property Increase Tax Exemption
Local Property Increase Tax Exemption for renewable energy systems provides an exemption from additional property taxes resulting from your solar panel installation. 
Federal Investment Tax Credit (ITC)
The Federal Investment Tax Credit (ITC), also known as the Federal Solar Tax Credit, is a national incentive that provides a dollar for dollar rebate of up to 30% at tax time.
---
For more information on other rebates and credits, visit our New Jersey solar incentives page.
---
5. What Are the Available Purchase Options for NJ Solar Panels?
When paying for a New Jersey solar panel installation, there are primarily two options to choose from;  purchase with Cash/Credit/Traditional Financing or Lease through our RateGuardian™ PPA to pay $0.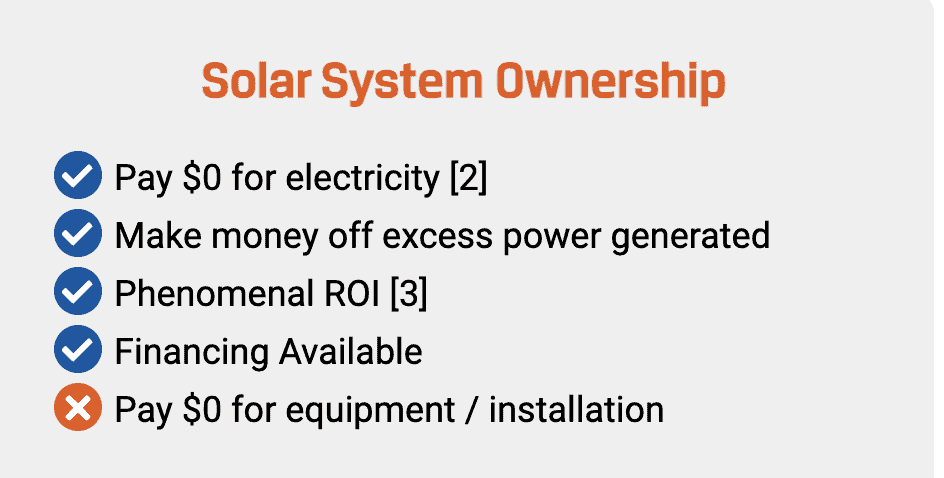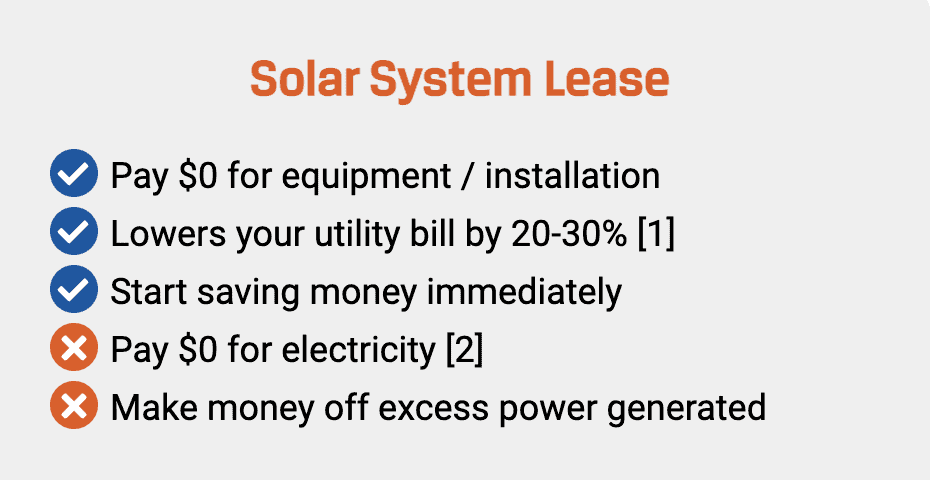 ---
See more New Jersey customer reviews here
---
Get a Free New Jersey Solar Panel Estimate
Requesting an estimate is 100% FREE and takes less than 5 minutes. Fill out the form below or contact us!