The Science is In and Solar Rocks!
More Than 1.5 Million Americans Run Their Homes on Sunshine, our most powerful energy source.
By Laureen Peck, Solar Energy World
There is no question that Solar is our most powerful energy source. Just one second of our sun's energy output could power the entire USA for 9 million years.* So, it can certainly power a home or business. Today solar-powered homeowners, including many in your own neighborhood, are paying a cheaper electricity rate than the grid while reducing their carbon footprint. In fact, roughly every 90 seconds, a new customer is going solar somewhere in the U.S.**
Environmental Benefits Not the Only Reason Why Homeowners Make the Switch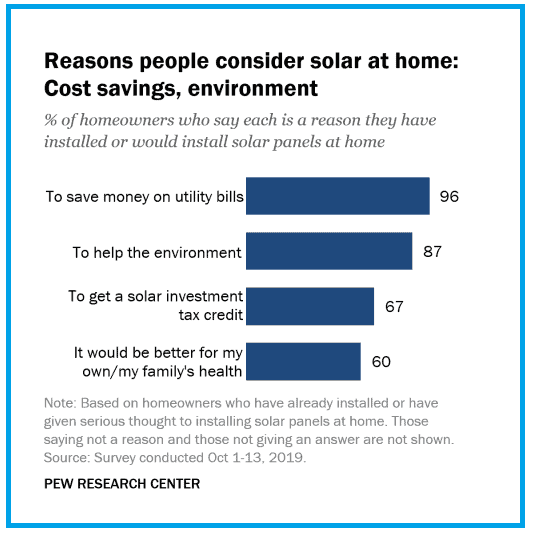 Americans choose renewable energy for their homes for a variety of reasons. Some do it because they want to support American energy independence. Others want to help grow green jobs and boost our economy. Many switch from fossil fuels to solar power to help protect the environment because the energy that comes from our sun is pollution free.
According to Pew Research, although protecting the environment is high up on the list, the number one reason Americans switch to home solar is for the cost savings they receive on their utility bills which can be substantial. (In fact, homeowners who own their home solar system not only save on energy costs, they can also generate a strong ROI by earning SRECs and by getting paid by their utility for the excess energy their solar systems produce.)
Is it More Important to Protect the Environment or to Save On Utility Costs?

The truth is, it doesn't matter because going solar does both. And today with a Solar PPA (Power Purchase Agreement) or Solar Lease, you can actually pay nothing for solar panels and installation to start saving on your utility costs on Day One. Or you can purchase a solar system for $0 Down and end up paying zero electricity costs while you earn profits from the energy your solar system produces.
Solar is our most powerful energy source, and it costs less than fossil fuels, so why wait any longer to find out if your home qualifies for solar?
Simply fill out the form below or call 888-347-5497 and we will let you know if your home qualifies. Today we have no-contact consultations available so it has never been easier to learn if solar is right for you.
---
*NASA **SEIA